Residential Services
B&C Blacktop Sealing, Inc. is a full-service asphalt company offering everything from seal-coating to new construction. All asphalt work is done by our employees specifically trained for each task.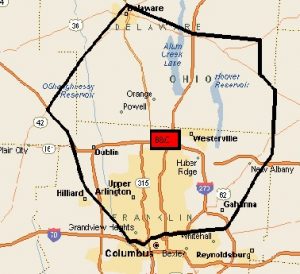 We ONLY offer residential services that meet a $15,000 minimum:
Removal and Replacement (RR)
New Constructions (ND)
Grade and Pave (GP)
Overlay, also called capping (OL)
Seal Coating (SC)
Hot Crack Sealing (CS)
***WE DO NOT DO ANY RESIDENTIAL REPAIR WORK.***
Minimum charges apply to all of the above services. Our residential service area is limited http://bcblacktop.com/about-us/service-area/. Please fill out the form to the left for a free estimate or call us at 614-888-7070 for more information. Also see our Residential Frequently Asked Questions page.
Remove and Replace (RR)
When properly constructed and cared for, asphalt driveways will give several years of service. However, every product has a life expectancy, and this is as true for asphalt driveways as for anything else. When a driveway reaches a certain level of deterioration, the best remedy is to remove it, rebase it (add additional limestone if necessary) and install 2″ to 4″ of new asphalt depending on the traffic. This effectively provides the homeowner with a new driveway.
New Construction (New Dig or ND)-Only done in conjunction with replacing your driveway.
Often clients need a new asphalt installation for a new driveway, a new turnaround, additional parking for a second vehicle, or for recreation adjacent to an existing drive. This procedure is called a new dig and requires several steps. The first of these is to determine the client's objectives and the site assessment. We need a thorough understanding of the client's objectives as well as an evaluation of the site for drainage, contours and other variables that might effect the installation. After reviewing these issues the second step is the excavation and removal of  dirt as needed. This is followed by the installation, grading, and compaction of #304 limestone to create a sound and enduring base. The fourth step is the paving and compaction of the asphalt to a predetermined thickness of 2″ to 4″ depending on the traffic load. The final step, as in all our work, is ensuring that we have met our client's expectations. If the new dig is a turnaround,  additional parking for a second vehicle, or for recreation adjacent to an existing drive, there will invariably be a visible seam between the two. This phenomenon can be minimized, but it cannot be eliminated..
Grade and Pave (GP)
Many homeowners initially opt for a simple gravel driveway. However, over time the disadvantages of this solution become apparent, and they seek a better solution, i.e., having the driveway paved. Since gravel driveways have often been in place several years and, since several loads of gravel have usually been brought in to rejuvenate it, a stone base has been established. However, asphalt requires a specific type of stone (#304 limestone*), and most gravel driveways are a mix of various other stone types; #2s, #4s, #57s, etc. Unfortunately, none of these stones will compact sufficiently to create an appropriate asphalt base. But they do create a base that requires a need for less #304 limestone. During the grade and pave process, the top layer of existing gravel is leveled and the grade is set. The #304 limestone is brought in and the area is again leveled and graded to ensure proper drainage. Next the area is rolled to produce a solid base. Finally, 2″ to 4″ of new asphalt is installed depending on the traffic load.
Overlay (OL)
B&C Blacktop encounters many instances where the top layer of an asphalt driveway is worn and damaged, but the underlying base is still sound. Under these circumstances a Remove and Replace sometimes does not make the best economic sense. Instead of removing the existing asphalt, it can become the additional base for a second layer (the cap or overlay). Often asphalt surfaces that qualify for this procedure have some incidental low places in them, i.e., ruts, dips, etc. These must be filled before a cap can be applied in order to guarantee a smooth and level finished surface. Asphalt is then installed and compacted to an average finish thickness of 1.5″ to 2″ depending on the application. Caps can last as long as a new driveway. However, asphalt requires a sound base to maintain its integrity and, when a cap is applied to a driveway where the base is compromised, it will quickly fail. . When in doubt about the soundness or integrity of a driveway's base, it is better to remove and replace it than to put a cap on a faulty base, have it fail and lose your investment.
Seal Coating (SC) We are no longer quoting new residential sealing customers and only service previous sealing/paved customers moving forward.
Seal-coating is the most common residential driveway procedure. However, doing the job correctly is key to a successful application. Seal coating should never be done until the ambient day and evening temperature(s) are 55 degrees Fahrenheit. Otherwise the seal-coat doesn't cure properly and the sealer will have a tendency to wear off much more quickly than it should. Application procedures may differ, but the importance of using the right product cannot be overstated. B&C Blacktop Sealing, Inc. uses only top-of-the-line Brewer Cote coal tar emulsion sealer. Brewer Cote meets or exceeds both the Air Force and Federal R-P 355e GSA-FSS and the American Society for Testing and Material Specification D-3320-74T, specifications. All manufacturer's mix mix specifications are followed as the proper amounts of washed silica sand provide added traction and longevity to the seal finish. Tar Max, a latex performance enhancer, is added to increase the longevity and color of the finish. The sealer is transported in steel hydraulically agitated tanks to ensure a consistent and uniform mixture arrives at the work site. The subsequent result is a professional, enduring finish.Seal coat is often applied too frequently. We recommend that two coats be applied to a new installation after it has cured for one year. Thereafter, a single coat of sealer should be applied every two to three years depending on surface traffic and wear.
* #304 limestone has aggregate of various shapes that measure from the size of a quarter down to a grain of sand. This variation allows it to be compressed into a very firm base in support of an asphalt installation.